1. "ONDE ESTÁ TEU IRMÃO?" (Gn 4,9)
Uma leitura narrativa do episódio de Caim e Abel
Palabras clave:
Caín, Abel, Hermano, Fraternidad, Fratricida, Misericordia
Resumen
Este artigo procura fazer uma leitura espiritual e existencial do episódio de Caim e Abel (Gn 4,1-16) em três passos elementares: delimitação
e estrutura do texto, considerações a partir da sequência narrativa, acentuando alguns elementos teológicos que possam iluminar o cotidiano.
O autor tenta mostrar que as opções livres e misteriosas de Deus podem ser ocasião para despertar em nós o autodomínio e o crescimento na direção da
alteridade (outro/Outro). A chance, porém, pode ser desperdiçada. A exemplo de Deus, somos convidados a ser o guarda do irmão (desvalido) como
via para restaurar a família humana.

Palabras clave: Caim e Abel. Irmão. Fraternidade. Fratricídio. Misericórdia.

 

"Where is your brother?" (Gen 4:9)
A narrative revisitation to the Episode of Cain and Abel

This article seeks to do a spiritual and existential reading of the episode of Cain and Abel (Gn 4:1-16) in three essential steps: the delimitation
and structure of the text, some considerations from the narrative sequence, and foregrounding some theological elements to enlighten our
everyday routine. The author tries to demonstrate that free and mysterious choices of God may be an opportunity to rouse our self-control and
maturity in the direction of the alterity (otherness/Other). Although this chance may be wasted. Towards God's own example, we are invited to be
keepers of our brothers (who are helpless) as a way of restoring the human family.

Key Words: Cain and Abel. Brother. Fraternity. Fratricide. Mercy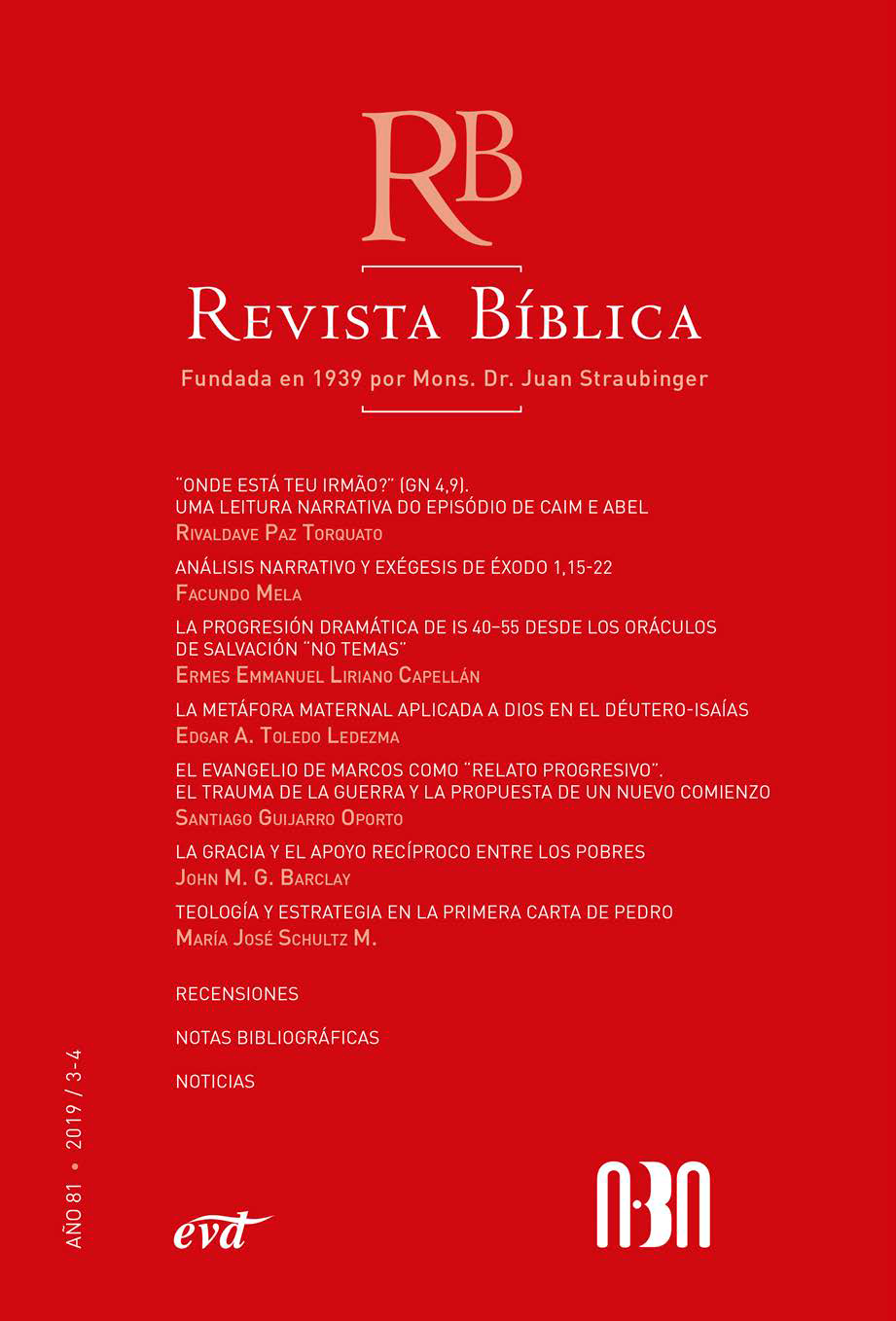 Cómo citar
[1]
Torquato, R.P. 2019. 1. "ONDE ESTÁ TEU IRMÃO?" (Gn 4,9): Uma leitura narrativa do episódio de Caim e Abel. Revista Bíblica. 81, 3-4 (nov. 2019), 221-246.
Derechos de autor 2019 Revista Bíblica
Está obra está bajo licencia Creative Commons Attribution-NonCommercial-ShareAlike 4.0 International License.