Análisis narrativo del martirio de Eleazar (2 M 6,18-31)
Palabras clave:
2 Macabeos, Martirio, Ancianidad, Fidelidad a la Ley, Eleazar
Resumen
La muerte de Eleazar, narrada en 2 M 6,18-31, ofrece uno de los más insignes ejemplos de resistencia y martirio ante la imposición religioso-cultural de una potencia extranjera. El anciano escriba se convierte en un modelo de fidelidad a la propia cultura, las tradiciones ancestrales y la fe de su pueblo.
Llamativamente, la perícopa ha sido poco estudiada a diferencia de otros textos o temáticas de 2 M. Por esta razón, el siguiente trabajo quiere ser un aporte a la investigación e interpretación de la misma, ofreciendo un análisis sincrónico del relato y los elementos que lo componen.
Citas
Baslez, M. F., "The Origin of the Martyrdom Images: from the Book of Maccabees to the First Christians", en G. Xeravits – J. Zsengellér (eds.), The Books of the Maccabees: History, Theology, Ideology. Papers of the Second International Conference on the Deuterocanonical Books, Papa, lIungary, 9-1 1 June, 2005, Leiden – Boston 2017, 113-130.
Bertram, G., "??? y ???? en los LXX", en G. Kittel – G. Friedrich (eds.), Grande Lessico del Nuovo Testamento. III, Brescia 1967, 1417-1427.
Burns, J. E., "Gendered Language and the Construction of Jewish Identity in 2 Maccabees", Journal of Jewish Identities 11 (2018) 107-122.
Coetzer, E., "Three Elders: Onias III, Eleazar, and Razis as the Embodiment of Judaism in 2 Maccabees", en G. R. Kotzé – W. Kraus – M. N. Van Der Meer (eds.). XVI Congress of The International Organization for Septuagint and Cognate Studies: Stellenbosch, 2016 (Septuagint and Cognate Studies 71), Atlanta 2019, 53-66.
Domazakis, N., The neologisms in 2 Maccabees, Lund 2018.
Doran, R., "2 Maccabees", en J. Barton – J. Muddiman (eds.), The Oxford Bible Commentary, New York 2007, 734-750.
Faley, R. J., "Levítico", en R. Brown – J. A. Fitzmyer – R. Murphy (eds.), Comentario Bíblico San Jerónimo. I, Madrid 1971, 207-255.
Frizzell, L. E., "Education by Example: A Motif in Joseph and Maccabee Literature of the Second Temple Period", en R. Link-Salinger – R.
Herrera (eds.), Of Scholars, Savants and Their Texts: Essays in Honor of Arthur Hyman, New York 1989, 103-112.
Helbing, R., Grammatik Der Septuagint: Laut- und Wortlehre, Göttingen 1907.
Houston, W., Purity and Monotheism: Clean and Unclean Animals in Biblical Law (JSOT Supplement Series 140), Sheffield 1993.
Jeremias, J., "????", en G. Kittel – G. Friedrich (eds.), Grande Lessico del Nuovo Testamento. I, Brescia 1965, 393-400.
Jordaan, P. J., "A Narrative-Therapeutic Reading of the Martyr Narrative in 2 Maccabees 6 and 7", en G. Xeravits – J. Zsengellér – I. Balla (eds.), Various Aspects of Worship in Deuterocanonical and Cognate Literature, Berlin – Boston 2017, 181-196.
Larivaille, P., "L'analyse (morpho) logique du récit", Poétique 19 (1974) 368-388.
Lemos, T. M., "Shame and Mutilation of Enemies in the Hebrew Bible", Journal of Biblical Literature 125 (2006) 225-241.
Liddell, H. G. – R. Scott – H. S. Jones – R. McKenzie, Greek-English Lexicon, Oxford – New York 1996.
Marguerat, D. – Y. Bourquin, Cómo leer los relatos bíblicos. Iniciación al análisis narrativo, Santander 2000.
McEleney, N. J., "1-2 Macabeos", en R. Brown – J. A. Fitzmyer – R. Murphy (eds.), Comentario Bíblico San Jerónimo. II, Madrid 1971, 325-389.
Muraoka, T., A Greek-English Lexicon of the Septuagint, Louvain – Paris – Walpole 2009.
Nickelsburg, G. W., "1 and 2 Maccabees-Same Story, Different Meaning", Concordial Theological Monthly 42 (1971) 515-526.
Preuss, J., Biblical and Talmudic Medicine, New York: Sanhedrin Press, 2004.
Real Academia Española, Diccionario de la lengua española, 21.ª ed., Madrid 1992.
Sayar, R. J., "'Te voy a poner como una luz para el mundo' (Is 49,6.4): la figura de Eleazar como ejemplo y paradigma del éthnos hebreo en IV Macabeos", Anales de Filología Clásica 27 (2014) 99-114.
Schams, C., Jewish Scribes in the Second-Temple Period, JSOT Supplement Series 291, Sheffield 1998.
Schwartz, D. R., 2 Maccabees. Commentaries on Early Jewish Literature, Berlin-New York 2008.
Signori, G., "Introduction", en G. Signori (ed.), Dying for the Faith, Killing for the Faith: Old-Testament Faith-Warriors (1 and 2 Maccabees) in Historical Perspective, Leiden – Boston 2012, 1-36.
Steyn, G. J., "The Maccabean Literature and Hebrews: Some Intertextual Observations", Journal for Semitics 24 (2015) 271-291.
Teichmann, J., "Greek Brothels in Jerusalem? – Vulgate Readings of the Second Book of the Maccabees", Vulgata in Dialogue 1 (2017) 83-101.
Tomes, R., "Heroism in 1 and 2 Maccabees", Biblical Interpretation 15 (2007) 171-199.
van Henten, J. W., The Maccabean martyrs as Saviours of the Jewish People. A study of 2 and 4 Maccabees (JSOT Supplement Series 57), Leiden 1993.
Wanke, G., "?????", en G. Kittel – G. Friedrich (eds.), Grande Lessico del Nuovo Testamento. XV, Brescia 1988, 47-132.
Williams, D. S., "Recent Research in 2 Maccabees", Currents in Biblical Research 2 (2003) 69-83.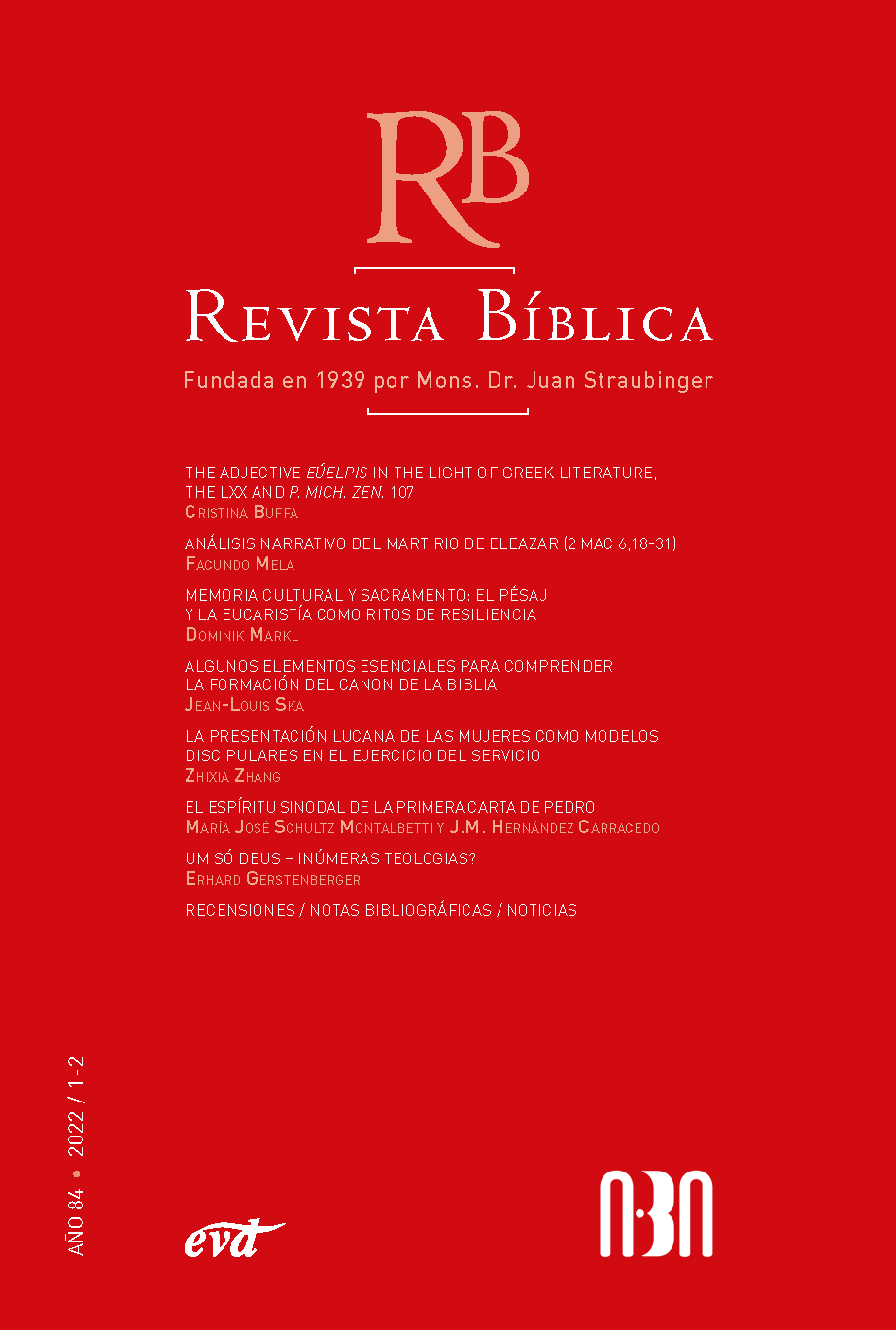 Cómo citar
Mela, Facundo. 2022. «Análisis Narrativo Del Martirio De Eleazar (2 M 6,18-31)». Revista Bíblica 84 (1-2):29-52. https://doi.org/10.47182/rb.84.n1-2-2022291.
Derechos de autor 2022 Revista Bíblica
Está obra está bajo licencia Creative Commons Attribution-NonCommercial-ShareAlike 4.0 International License.